Welcome at Cattery v.'t Rexenhuis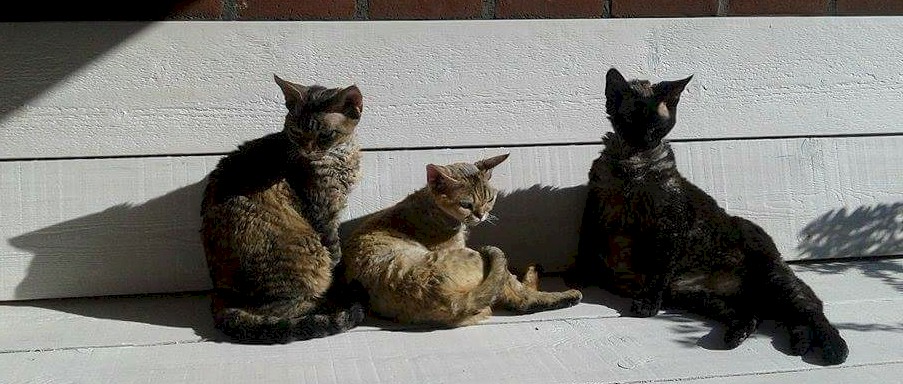 We are Pim and Marjolein and we have a small cattery close to Rotterdam, we have Devon Rex cats since 2003 and since 2005 we breed only one or two litters a year, because we mainly breed for joy, and our cats are our pets!
All our breeding cats are tested on Feline Leukemia (FeLV), FIV, HCM (hereditary heart disease), PKD (hereditary kidney disease), CMS (Congenital Myasthenic Syndrome) and luxating patellae. HCM tests are repeated each year because we consider the health of our cats very important!
Also we have our neuters tested now and then (to keep ourselves informed about the health in our breeding lines). Health and temperament are very important to us and that's why we try to use complete new lines to lower the inbreeding percentage, also we also stop breeding with problem lines, even if the offspring is tested negative on hereditary defects that occur in the Devon Rex breed.
We don't outcross to other breeds to reduce the inbreeding percentage, because we want to keep the wonderful affectionate temperament of the Devon Rex by using purely Devon Rex lines, (in other breeds problems occur too!), that's why we import different lines from other parts of the world; we are convinced one has to start at the core when there are faults there, otherwise introducing new lines is useless.
Our kittens are raised in the living room together with us, our other cats and our dogs! and are used to all possible household noises.
Devon Rex cats have a very playful, inquisitive and affectionate nature, which is why we prefer to place our kittens in a home were they have a cat or dog friend available, or this will be organzied very soon! Our kittens will not be placed on their own!